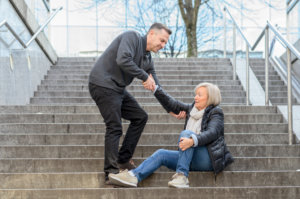 You were just involved in a slip and fall accident while on the job or in a public setting, and you are now wondering whether you should hire a personal injury lawyer. If an injury results from your fall, you should definitely consult with a personal injury lawyer in the Quad Cities to ensure you are fully compensated.
Why? There are several ways an experienced lawyer can assist you following a slip and fall accident. First, they can help keep you on track so that you don't miss any key deadlines. Next, they can help determine fault for the accident, identify and prove damages, and counter any defense tactics that might trip you up or weaken your case. Lastly, they can step in and deal with insurance adjusters whose only concern is saving their company money.
Winstein, Kavensky & Cunningham has a staff of four professional and experienced attorneys to tackle your slip and fall injury claim. Drop us a line or call us to schedule a free consultation to learn more about how our Iowa and Illinois slip and fall attorneys can help you.
Quad Cities Area Statutes of Limitations
If you believe that any injuries you suffered after a slip and fall accident were the result of a negligent property owner, you have a limited amount of time to get a lawsuit filed against that person (or business) with a local civil court system. That timeframe is referred to as a statute of limitations.
There are, however, a few extreme exceptions that may pause the countdown allowing you more time to file a slip and fall case. A Quad Cities personal injury attorney at Winstein, Kavensky & Cunningham can provide you with more details on the specific deadlines and exceptions specific to Iowa and Illinois.
Iowa Slip and Fall Statutes of Limitations
Under Iowa Code section 614.1, you have two years to file a slip and fall injury lawsuit that may have been caused by someone else with Iowa's civil court system. That two years time requirement begins on the date of your accident.
Illinois Slip and Fall Statute of Limitations
Just like the state of Iowa, the statute of limitations to file a slip and fall case in Illinois is two years from the date of the accident. You'll find this law listed under 735 Illinois Compiled Statutes (ILCS) section 5/13-202.
Note: It is in your best interest to contact an attorney sooner rather than later. Doing so will allow enough time to gather proper evidence and build a strong liability case against the property.
How Fault Is Determined After a Slip and Fall
As attorneys, it is our team's job to evaluate all of the evidence and help establish who is ultimately responsible for your injuries. We then use that information to prove the amount of damages that you may be entitled to recover at the expense of the negligent property owner.
We can also tap into our vast experience to address and counter any defense tactics a property owner may try to present that tries to make you either completely or partially at fault for your accident and subsequent injuries. Because history tends to repeat itself, this would not be an uncommon occurrence after you file a slip and fall injury claim.
This brings us to another important point—the amount of compensation you may receive will depend on state law and the percentage of fault.
For example, per Iowa Code section 668.3, if the court finds you to be 50% or more at fault in your slip and fall accident you will not receive any compensation. However, if you are found to be 49% or less at fault, you may receive partial compensation under the state's "comparative negligence" rule. That partial amount is generally significantly lower than if you were able to establish that the property owner was negligent and 100% at fault.
In the state of Illinois, its "modified comparative negligence rule" is similar to Iowa's "comparative negligence" rule with one key exception. If the court finds you to be partially at fault for your slip and fall accident, it is still possible to still receive full damages if your percentage of fault is determined to be less than 50%.
Why You Shouldn't Deal with Insurance Adjusters On Your Own
The main reason you should not deal with insurance adjusters on your own is that they are more interested in saving their company money than seeing that you get fairly compensated.
As such, they may use certain tactics to prevent you from receiving a fair settlement. These unsavory methods may include:
Asking to record a statement about your slip and fall accident. This may seem innocent enough, but you could inadvertently say something that could be taken out of context resulting in a shift of fault.
Denying your claim by shifting blame to a third party.
Lowballing the first settlement offer by minimizing your injuries.
Giving you a false deadline.
Another tactic they may use is to advise you against seeking legal counsel. Just like the other previously stated methods, this tactic may be used to help ensure that you get far less compensation than you deserve. Ultimately, the insurance adjuster knows that once you hire legal representation all of their tactics won't work because a personal injury lawyer is skilled at combating them.
Contact a Quad Cities Slip and Fall Accident Attorney
We know that injuries resulting from a Quad Cities slip and fall accident can vary from sprains, breaks, or even wrongful death. No matter what degree of injury you or a loved one suffered, our personal injury lawyers are here to help take care of all your legal needs. With more than 120 years of combined experience, you can count on us to help you get the highest settlement possible.
To find out how you can get the most money for your Iowa or Illinois slip and fall injuries, contact us for a free consultation 24/7. Call us directly at (309) 794-1515, chat with a live representative now, or share more details about your accident through this confidently online form. Once you give us a chance, you'll quickly discover why so many injured people in the Quad Cities area have put their trust in Winstein, Kavensky & Cunningham.
Practicing Attorneys:
Robert Rosenstiel John Malvik Christine Keys Andrew Elias