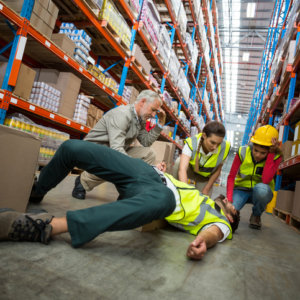 Have you or a loved one recently suffered an injury because of a Quad Cities workplace accident? If so, you may be able to take advantage of worker's compensation benefits from your employer. But, what if your employer was at fault for your injury? In these instances, you may wonder if it is possible to sue for compensation due to your workplace accident. Regardless of how your workplace accident occurred, a Quad Cities workplace accidents lawyer from Winstein, Kavensky & Cunningham will be able to help.
To take advantage of decades of work injury experience, call us today at (309) 794-1515. You'll be able to schedule your free initial consultation and get all of the answers you seek according to your specific injury claim.
Can I Sue My Employer for an Accident at Work?
The Quad Cities area has a unique demographic, as it deals with two different states. Therefore, it also deals with two different sets of specific laws for workers' compensation cases in Iowa and Illinois, respectively.
For example, in Iowa, you cannot sue your employer for a workplace accident, even if they were at fault or negligent in some way. In this state, you will receive your compensation through worker's compensation benefits.
However, in Illinois, there are certain exceptions where you might be able to sue for damages resulting from your injuries. These cases are especially complicated, and best handled by a knowledgeable Quad Cities workplace accidents lawyer.
Note: While the law offices of Winstein, Kavensky, and Cunningham are located in Rock Island, Illinois, we still serve the entirety of the Quad Cities area. This includes Davenport, IA, Bettendorf, IA, Moline, IL, and East Moline, IL.
How to Build Your Workplace Accident Case
It's happened – you've got a cut, broken a bone, or suffered an electric shock while performing typical job duties. Depending on the severity of your injury, you might miss time at work. If this happens, it is incredibly difficult for families to pick up the pieces, as they have lost a significant amount of financial assistance. In these cases, basic workman's compensation just doesn't seem to be enough for injured workers. So, where does that leave you?
However possible, you need to build a strong case to maximize your workman's compensation benefits or learn if you can potentially sue your employer. As previously stated, your options will depend greatly on the location of your employer.
Now to build an effective case, we strongly suggest that you obtain the assistance of excellent workers' compensation lawyers. Additionally, you will need to make sure that you do your part to support your case by following these steps:
Be sure to report your workplace accident as soon as possible, even if you do not think initially that you are injured. This is important because state laws often limit the period of time you have to report a workplace accident and have it covered by workers' compensation. In Iowa, this statute of limitations is two years. In Illinois, it's three.
Injuries might not become apparent until later. So, keep a journal, or notes saved to your phone, detailing symptoms in the days following your accident.
Save supporting documentation, like medical bills. If possible, take pictures at the accident site, showing anything that might potentially have contributed to your accident.
Call Winstein, Kavensky & Cunningham for a free workplace accident consultation.
Then, you can share your story and any supporting documentation with our legal team. We will use this information to analyze your claim, build your case, and determine if suing your employer is a possible action, or if maximizing your worker's compensation benefits is the right step.
How Else Can a Quad Cities Workplace Accidents Lawyer Help?
The experienced work-related-accident attorneys from Winstein, Kavensky & Cunningham can speak on your behalf with workers' compensation representatives. They can also assist you if your valid claim was denied, or if your employer classifies you as an independent contractor.
We'll even make home and hospital visits, to help you and your family in person. You can also schedule evening and weekend appointments to suit your needs. In the end, we will do all that we can to fight for you and your family to help get you the most financial support possible to cover lost wages, injuries, and other damages.
Seek Assistance from Winstein, Kavensky & Cunningham
Whether you would like to find out if it's possible to sue your employer, or if you'd just like to learn more about how you can maximize your workman's compensation benefits, we are here to help. To find knowledgeable and highly skilled workplace accident lawyers serving the Quad Cities area, look no further than Winstein, Kavensky & Cunningham. Reach out through our convenient LiveChat feature, or fill out this online form now. Our full-service law firm has been representing the varied legal interests of our clients for more than 50 years. As such, you don't need to try to maneuver through the complexities of a workplace accident claim alone, instead- contact us today.
Practicing Attorneys:
Robert Rosenstiel John Malvik Christine Keys Andrew Elias