Traffic Ticket Lawyer serving the Illinois counties of Rock Island, Henry, Mercer, and Whiteside
Iowa counties of Scott, Clinton, Muscatine, Cedar and Jackson. Including the cities of Rock Island,IL; Moline, IL; East Moline, IL; Davenport, IA; Bettendorf, IA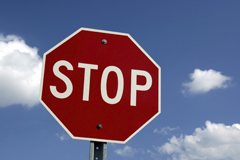 The most common citations we represent clients on are Driving Under the Influence, Driving while suspended or revoked, and speeding tickets as well as citations which were given as a result of an accident. Often times, our traffic lawyers are able to obtain a resolution that will not put "points" on a person's license. Moreover, for most tickets our lawyers are able to appear for you so that you do not need to attend court to resolve the ticket.
Winstein, Kavensky & Cunningham is the law firm of choice when it comes to traffic ticket defense in Illinois and Iowa. Our firm has the expertise necessary to formulate solid defenses for driving-related violations.
Our attorneys know what it takes to obtain favorable results. No matter how petty or serious your traffic violation may be, you can depend on us to make all the necessary efforts to win your case.
Examples of tickets that our firm handles on a daily basis include but are not limited to:
Aggravated Driving Under the Influence
Driving on a Suspended License
Driving on a Revoked License
Driving Under the Influence of Alcohol (DUI Alcohol)
Driving Under the Influence of Drugs (DUI Drugs)
Improper Lane Usage
Leaving the Scene of an Accident
Reckless Driving
Speeding Tickets
Construction Zone Ticket Violations
Violations of the Graduated Driver's License Program
Failure to Yield
Fleeing and Eluding
Equipment violations
Improper Passing
CDL violations
Overweight tickets
Our criminal defense attorneys are experienced and knowledgeable about all aspects of traffic law.
There may be dispositions available to you that have a minimal effect or no effect on your eligibility to drive. Please do not think that your ticket is too small or too trivial for us. We take every case seriously.
Petty traffic offenses can have major consequences on Truck Drivers, Commercial Driver's License (CDL) holders, and others whose livelihood depends on driving. In addition, drivers under the age of 21 are subject to more severe penalties for even minor violations under the Graduated Driver's License Program.
Protect your privilege to drive and contact our office today at 309-794-1515 for a free consultation and to find out what your options are.
Practicing Attorneys:
David Cunningham Andrew Elias